Swiftpack.co is a collection of thousands of indexed Swift packages.
Search packages.
Onboard, retain and support mobile users at scale
Engage customers with email, push, and in‑app messages and support them with an integrated knowledge base and help desk.
The Intercom Messenger
The Intercom Messenger is the home for the conversations your customers have with you via Intercom, and the place where they can self-serve for support or to learn more about your product.
The Messenger works for both logged in and logged out users. It's worth reading the detailed instructions in our developer docs on user management before you get started.
You can open the Intercom Messenger from a button in your app, programmatically when someone does something, or from a persistent button that sits over your app's UI.
When you trigger the Intercom Messenger, your customer is presented with a home screen. This is configurable inside Intercom to change how it looks and what's presented.
From there, your customer can search for help articles or start a conversation. A conversation goes to your inbox inside Intercom, and replies in both directions happen in real time. You can also send push notifications to your customers to let them know they have a reply after they've left your app.
You can send messages to your customers from Intercom, and the mobile SDK will present them in your app. Messages can be targeted at specific users or groups of users, and can be scheduled to be sent during specific time windows.
Companies use this for many use cases, including onboarding new users, announcing features, proactive support, important notices etc.
The mobile SDK supports many different message formats, all of which can be created and configured inside Intercom. These include:
Push notifications - these can open your app or follow a deep link.
Chats - messages from someone in your team to your customer.
Mobile Carousels - highly customizable, multi-screen messages with calls to action and device permissions.
Small posts - a short announcement.
Large posts - a full screen announcement.
We check for new messages when your app opens and whenever your customer or your app interacts with Intercom.
Installation
Intercom for iOS supports iOS 10+. Xcode 12 is required to build Intercom iOS SDK. The binary size for Intercom is 2.3MB.
CocoaPods
Cocoapods 1.10 is required to install Intercom. Add the Intercom pod into your Podfile and run pod install.
    target :YourTargetName do
      pod 'Intercom'
    end

Swift Package Manager
Add https://github.com/intercom/intercom-ios as a Swift Package Repository in Xcode and follow the instructions to add Intercom as a Swift Package.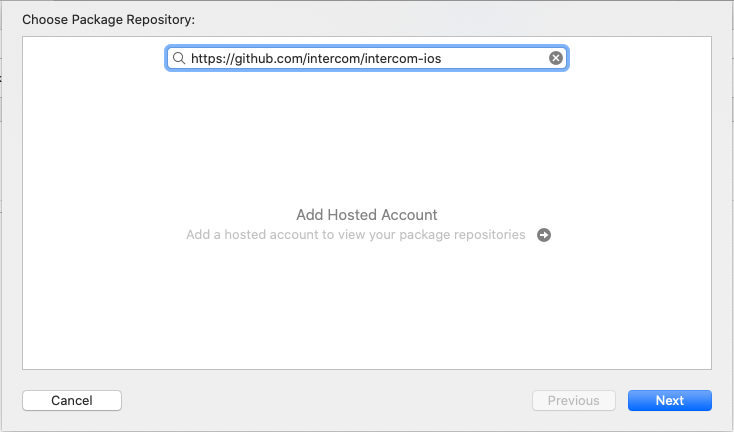 Manual Installation
Download Intercom for iOS and extract the zip.
Drag Intercom.xcframework into your project.
Make sure "Copy items if needed" is selected and click Finish.
In the target settings for your app, set the Intercom.xcframework to "Embed & Sign". This can be found in the "Frameworks, Libraries, and Embedded Content" section of the "General" tab.
Update Info.plist
Photo Library usage:
With the exception of apps that only support iOS 14+, when installing Intercom, you'll need to make sure that you have a NSPhotoLibraryUsageDescription entry in your Info.plist.
For apps that support iOS 13 or lower, this is required by Apple to access the photo library. It is necessary when installing Intercom due to the image upload functionality. Users will be prompted for the photo library permission only when they tap the image upload button.
On iOS 14+, Intercom uses the new PHPickerViewController API which does not require requesting users for photo library permission.
Example app
There are example apps provided here for Objective-C and Swift, as well as an example built with SwiftUI.
Setup and Configuration
Customer Support
👋 Contact us with any issues at our Intercom Developer Hub available here. If you bump into any problems or need more support, just start a conversation using Intercom there and it will be immediately routed to our Customer Support Engineers.
Cordova/Phonegap Support
Looking for Cordova/Phonegap support? We have a Cordova Plugin for Intercom 🎉
What about events, push notifications, company and user data?
Intercom for iOS has support for all these things. For full details please read our documentation.
Releases
9.1.1 - 2021-01-19T10:49:44
Release Date: 19-01-2021
Bug Fixes
Fixed an issue that was causing Xcode debug variables not to appear when Intercom was integrated into an app. This was only occurring when an Xcode project was based in Swift and had other dependencies loaded via Swift Package Manager.
Added the ability to hide the New Conversation button in a bot-only conversation.
9.1.0 - 2021-01-13T18:14:23
Release Date: 13-01-2021
Intercom can now be added as a dependency in your app via Swift Package Manager.
Simply add https://github.com/intercom/intercom-ios as a new Swift Package in your Xcode settings.
9.0.0 - 2020-12-16T20:17:20
Release Date: 16-12-2020
Intercom iOS SDK is now distributed as an XCFramework binary.
This contains architecture slices for arm64, armv7 for iOS and arm64, i386, x86_64 for the simulator. Support for macOS is coming in a future release.
Provides support for using the Intercom SDK with Xcode 12.3
This release does not support Carthage. We hope to support Carthage again, once it is compatible with XCFramework.
8.1.1 - 2020-12-03T17:41:01
Release Date: 3-12-2020
Enhancements
Added an optional special notice message, that can be displayed at the top of a conversation. This has been commonly used to set expectations during COVID. Find more details here.
Bug Fixes
Fix for an intermittent crash that occurred for some users when viewing a conversation.
8.1.0 - 2020-11-10T15:29:22
Release Date: 10-11-2020
Enhancements
New feature: You can now open an article or Mobile Carousel programmatically in your app. We have added two new methods to our API to enable this, presentArticle and presentCarousel.
8.0.0 - 2020-09-17T10:59:36
Release Date: 16-09-2020
Enhancements
The SDK has been updated to support iOS 14.
For iOS 14 devices, we now use the new system photo picker to select photos to upload. This means that your users won't be prompted for the photo library permission.
7.1.3 - 2020-09-01T15:16:37
Release Date: 01-09-2020
Enhancements
Minor bug fixes and compatibility updates for future releases.
7.1.2 - 2020-08-07T13:37:28
Release Date: 07-08-2020
Enhancements
We smoothed out some animations for a better experience for your users.
Bug Fixes
Fixed an issue where a navigation bar would appear over a Mobile Carousel when the host app sets navigation bars to be opaque via the UIAppearance API.
Fixed an issue where images with a large height to width ratio were constrained in size when used in a Mobile Carousel. This constraint was removed.
Fixed a crash that occurred when iPad users attempted to re-upload an image after their first attempt failed.
Fixed an issue where some replies to a long exchange with a bot would cause the conversation to briefly scroll.
7.1.1 - 2020-07-07T13:18:06
Release Date: 06-07-2020
Enhancements
If your app does not request location permissions, you will no longer have to add a location permission string to your PList when using the Intercom iOS SDK.
7.1.0 - 2020-06-17T10:23:57
7.1.0
Release Date: 17-06-2020
In v7.1.0 of the Intercom mobile SDK, we're introducing a fantastic new mobile engagement feature called Mobile Carousels. We've also added support for closed conversations, as well as a number of fixes and performance improvements.
📱 New Feature: Mobile Carousels
Bring your best features. We'll bring the spotlight. Use Mobile Carousels to connect with app users at every touchpoint—show them around, provide support, and highlight features you know they'll love.
Mobile Carousels are a multi-screen message designed to feel right at home in your mobile app.
Rich multi-screen messages.
Highly customizable, right inside Intercom.
Request device permissions like push notifications, camera, location and more.
Deep link into your app, open URLs, or start conversations in the Intercom Messenger.
Target the right message to the right audience.
A/B testing and control groups.
Goal tracking.
Schedule your Mobile Carousel with ease.
Upgrade to the latest version of the mobile SDK today to use the feature. No additional integration work required.
📱 Closed Conversations
The mobile SDK now respects the prevent replies to closed conversations setting if you have it enabled. The text composer will be disabled for closed conversations, and your users will be able to start a new conversation if they need to. The UI updates in real time as the conversation takes place.
📱 Improvements and bug fixes
We made a number of performance improvements and squashed a number of bugs in this release. This includes:
Improved: The mobile SDK and its features now initialize and open more quickly.
Improved: More elegant image loading states.
Improved: Added support for pointers in iPadOS 13.4 and up.
Improved: Added support for Provisional Push Notifications
Fixed: An issue where Intercom was not relinquishing keyWindow status, causing problems with external keyboards and text input fields.
Fixed: An issue where the header background colour for articles was incorrect.
Fixed: A crash in iOS 13 when tapping close button after sending a reply to a conversation.
Fixed: A crash when exiting conversation before Operator has responded.
Fixed: An issue where conversations were marked as read when the app was in the background.
Fixed: An issue where some images were causing apps to crash during the while being uploaded to the messenger.
6.1.0 - 2020-03-18T17:48:47
Release Date: 18-03-2020
Enhancements
Bug Fixes
Fixed an issue that caused an error page to display when double-tapping on a link in the Help Centre.
6.0.2 - 2020-02-26T14:08:23
Release Date: 26-02-2020
Bug Fixes
This update fixes an issue that was causing some Custom Bot reply options to become unresponsive when tapping on them.
6.0.1 - 2020-01-27T16:43:23
Release Date: 27-01-2020
Bug Fixes
This update fixes an issue related to UINavigationBarAppearance, which was introduced in iOS 13. This fix means any customisations made to your navigation bar will not impact on the Intercom Messenger.
6.0.0 - 2019-10-24T13:41:36
Release Date: 24-10-2019
Enhancements
iOS 10 is now the minimum version of iOS that is supported by the Intercom iOS SDK.
We have deprecated support for iOS 8 & 9.
To upgrade to v6.0.0 please follow our migration guide. Changes are required to your code if you support push notifications or deep linking within your app.
5.5.2 - 2019-10-23T10:16:01
Release Date: 23-10-2019
Bug Fixes
Fixed an issue that was causing the Status Bar colour to be black on apps using the Intercom Messenger.
NOTE: If you are dynamically changing your status bar style, please follow our guidelines to ensure that your status bar updates accordingly.
5.5.1 - 2019-09-17T16:07:10
Release Date: 17-09-2019
Bug Fixes
Fixed an issue that was causing the Intercom Messenger not to display for apps that use a UISceneDelegate and initialize Intercom in their AppDelegate. It is recommended that all apps using a UISceneDelegate initialize intercom in their scene:willConnectionToSession:options method. Please see our installation documentation for further information and examples.
5.5.0 - 2019-09-12T16:03:17
Release Date: 12-09-2019
Enhancements
The SDK has been updated to support iOS 13.
Bug Fixes
The positioning of the chat head has been improved for larger devices.
The image picker has been updated to use an icon instead of text for the close button.
We fixed an issue that caused Messenger Apps to be the incorrect height.
Sometimes the team profile would not load correctly on first launch. We fixed that, too.
5.4.1 - 2019-07-22T13:01:35
Release Date: 22-07-2019
Enhancements
Quick reply options for Custom Bots are now shown on the in-app snippets! This allows users to view their options and respond right from the snippets.
5.4.0 - 2019-07-09T22:54:55
Release Date: 09-07-2019
New Feature 🤖
Handle new conversations with Custom Bots to provide faster, more personal support at scale.
When a customer starts a conversation with you in the Messenger, they'll be able to choose from suggested replies that you've defined. They can clarify why they're getting in touch, and provide extra info without needing to wait for a response, or take up your team's time. Adding a bot to your inbound conversations enables your customers to self serve, and gives you a way to automatically collect some basic information about what your customers need, which otherwise your team would have to collect manually.
5.3.1 - 2019-06-14T14:02:28
Release Date: 14-06-2019
Bug Fixes
Fixed a bug that prevented videos being dismissed in the Messenger.
5.3.0 - 2019-04-30T10:10:08
Release Date: 29-04-2019
New Feature 🤖
Deliver Custom Bots to your mobile app users to unlock growth across all platforms
Custom Bots can now be targeted specifically to your mobile app users! Whether your users are on the web or mobile, Custom Bots now work cross-platform to automate and accelerate growth.
Use our bots to provide better personalization at scale during critical moments of the customer lifecycle like when users first sign up for your app, or when they want to upgrade to a paid plan.
For more details on how to use Custom Bots on mobile, read our blog post and see our docs here.
Bug Fixes
Fixed a bug where the Messenger wallpaper was not tiling correctly.
Made improvements to image loading to improve performance.
Fixed a bug that was breaking the Messenger homescreen layout on iPad Pro 12.9"
5.2.1 - 2019-02-11T22:35:40
Release Date: 11-02-2019
Bug Fixes
Fixed a bug that was preventing messenger apps from loading on the Homescreen under certain circumstances.
5.2 - 2018-12-20T14:56:19
Release Date: 20-12-2018
Enhancements
Added new notifications that fire when the Intercom Help Center is being presented and dismissed. This will allow developers to take specific actions in their app when opening and closing the Help Center.
Bug Fixes
Improved the Messenger header wallpaper and colours so that it more closely aligns with other platforms. Added better colour handling when the selected background colour is white.
Fixed an issue where the "We run on Intercom" link was overlapping with conversation reactions.
The Intercom Messenger will now ignore the host app's use of prefersLargeTitles to prevent the UI from being distorted. 🎅🏻
5.1.10 - 2018-11-28T11:33:08
Release Date: 27-11-2018
Bug Fixes
Fixed a bug where conversations were not always being presented when opening from push notifications.
5.1.9 - 2018-10-25T16:23:11
Release Date: 25-10-2018
Enhancements
Some minor bug fixes and compatibility updates for future releases.
5.1.8 - 2018-10-02T15:17:06
Release Date: 02-10-2018
Bug Fixes
Added a fix to prevent a small number of apps briefly freezing on launch.
5.1.7 - 2018-09-28T15:37:06
Release Date: 28-09-2018
Enhancements
We now provide support for Loom videos in Intercom. This feature is available to customers using SDK version 5.1.6+.
Bug Fixes
We fixed a bug that prevented customers being able to change a conversation rating after an initial rating selection.
5.1.6 - 2018-09-15T15:15:15
Release Date: 14-09-2018
Enhancements
AnswerBot support.
This version of the Intercom iOS SDK fully supports iOS 12 and the new devices iPhone Xr, Xs & Xs Max. Recent versions of the SDK should also work, but have not been tested.
Made some updates to colours.
The Intercom launcher now only appears once a successful response from the server is received.
Improved video support.
5.1.5 - 2018-08-27T13:10:14
Release Date: 27-08-2018
Bug fixes
Fixed an issue that prevented videos from playing when they were embedded in a Help Center Article.
Resolved an issue that prevented the Stripe Subscriptions Messenger App from working.
Tapping on the "More in Help Center" link in an article suggestions card now loads the Help Center.
Updated the title of the Help Center so that its fully localised.
5.1.4 - 2018-08-15T09:26:15
Release Date: 15-08-2018
Bug fixes
Improved Home screen animations.
Fixed a bug where articles with embedded videos were being loaded incorrectly.