swift-nio-irc-eliza
SwiftNIO IRC is a Internet Relay Chat protocol implementation for SwiftNIO, including a client.
SwiftNIO IRC Eliza, is a scalable Rogerian psychotherapist based on the SwiftEliza module. Eliza is always there for you!
This bot can be used standalone, or you can embed it as a Swift module.
Talking to Eliza
In your IRC just talk to nickname Eliza, she'll respond!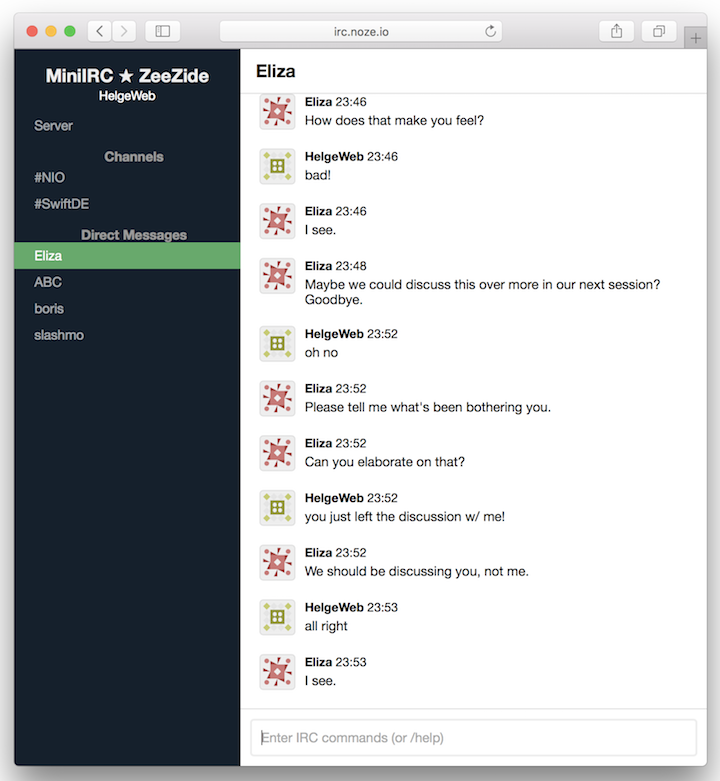 Importing the module using Swift Package Manager
An example Package.swiftimporting the necessary module:
// swift-tools-version:4.0

import PackageDescription

let package = Package(
    name: "MyElizaBotTool",
    dependencies: [
        .package(url: "https://github.com/NozeIO/swift-nio-irc-eliza.git",
                 from: "0.5.0")
    ],
    targets: [
        .target(name: "MyElizaBotTool",
                dependencies: [ "IRCElizaBot" ])
    ]
)

Who
Brought to you by ZeeZide. We like feedback, GitHub stars, cool contract work, presumably any form of praise you can think of.
Help us keep the lights on
Releases
0.6.0 - Jul 26, 2018
The IRC client lib was moved to a standalone package to not spam the protocol implementation.