Dynamic Dark Mode
Dynamic Dark Mode is the app you are looking for to power up Dark Mode on macOS Mojave.
Instead of looking for the switch for dark mode in System Preferences, just click the icon in the menu bar. Ever felt your eyes getting hurt because the screen is so bright in the night? Have to worry no more, we Dynamically enable dark mode in dim lights, after sunset, or just anytime. When you wake up in the morning, it'll a be another bright day.
Install
NEVER available on the Mac App Store, but you can download the latest release directly, or install via Homebrew Cask:
brew cask install dynamic-dark-mode

Usage
Click the menu bar icon to toggle Dark Mode
Right click the menu bar icon to show settings
License
Dynamic Dark Mode - the smart, automatic Dark Mode toggle for macOS
Copyright (C) 2018 Zhiyu Zhu (@ApolloZhu)

This program is free software: you can redistribute it and/or modify
it under the terms of the GNU General Public License as published by
the Free Software Foundation, either version 3 of the License, or
(at your option) any later version.

This program is distributed in the hope that it will be useful,
but WITHOUT ANY WARRANTY; without even the implied warranty of
MERCHANTABILITY or FITNESS FOR A PARTICULAR PURPOSE.  See the
GNU General Public License for more details.

You should have received a copy of the GNU General Public License
along with this program.  If not, see <http://www.gnu.org/licenses/>.

Help us keep the lights on
Releases
1.1.0 - Nov 5, 2018
IMPORTANT
If you have previously installed Dynamic Dark Mode via Homebrew Cask, sorry for the inconvenience, but you have to
brew cask uninstall dynamic
brew cask install dynamic-dark-mode

This release is unplanned, I just want to get the cask name changed before more people star this repo, so
THIS VERSION DOES NOT HAVE AUTO UPDATE
Scheduled toggle now works when sun rises before you wake up your mac (#39)
Dynamic Dark Mode now appears as Dynamic Dark Mode.app (#33)
Update Simplified Chinese translation (#36)
The title of this release is a quote from my physics teacher Mr. Buczyna
1.0.6 - Oct 22, 2018
I hate this, but I'm breaking my promise:
THIS VERSION DOES NOT HAVE AUTO UPDATE
Deutsch (German) translation added by @LukasLen
Русский язык (Russian) translation added by @pankova
Bahasa Indonesia (Indonesian) translation added by @hndr91
le français (French) translation added by @Ethenyl
Didn't see your language?
Check out https://github.com/ApolloZhu/Dynamic-Dark-Mode/issues/3 to see how you can help other people by translating this app into language(s) you know.
Mac App Store? Status: Didn't work. Not working. Won't work.
I guess I can turn off App Sandbox and start adding auto update now. However, that means I need to first add a few more settings (e.g. disable the touch bar toggle button).
Homebrew Cask support is almost there!
Happy Hacktoberfest!
1.0.5 - Sep 30, 2018
THIS VERSION DOES NOT HAVE AUTO UPDATE
I'm tired of typing this. I'll add auto update in the next release.
AppleScript execution error will now show up in a less scary way (if it needs to)

Fixed code that determines whether dark mode should be turned on or not (#18)

Error -1751 used to happen, and only happened, when app launches (the first time). After Googling when people get this OSStatus, I realized it's caused by race condition between the Scheduler and ScreenBrightnessObserver. These two wasn't really working together in the first place; sometimes you'll see dark mode been turned on, then immediately turned off. Now dark mode will be holistically determined on launch (instead of letting them compete).
Mac App Store? Status: In Review
I think folks in the App Review Board are having a hard time composing their reply. They have time, but we don't. Therefore, I'll let them check if this new version that doesn't "escape sandbox" works or not instead.
1.0.4 - Sep 30, 2018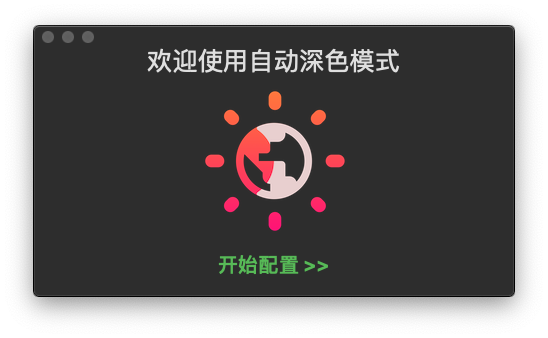 What's New
THIS VERSION DOES NOT HAVE AUTO UPDATE
Now those who knows Chinese better can use this app more easily.
For the history of changes, see changelog
1.0.3 - Sep 29, 2018
What's New
THIS VERSION DOES NOT HAVE AUTO UPDATE
You can now download the installer (.pkg) that automatically moves the app into the Applications folder. I just realized that's probably REQUIRED for the app to launch. (#16)
Asking for location access during setup to ensure scheduling for sunset/sunrise works (#15)
In case if you'd like to perform the above step, there's a re-setup button in the app's preferences pane